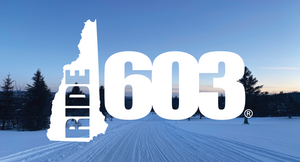 FREE SHIPPING
Giving Back
THE FUTURE OF CLUB FUNDING
ALL CLUBS WELCOME
RIDE 603 - "THE FUTURE OF CLUB FUNDING"
~The Ride 603 platform was built to deliver the goods!
Ride 603 exists to help ALL clubs with a self funding option other than bake sales and poker runs, now..we're not knocking bake sales, (because ya know we love moon pies), this is just a great, innovative, and forward-thinking option to get some really cool & super high quality merchandise while supporting your local club.  
ALL CLUBS WELCOME: ATV, Snowmobile, Motorcycle, Boating and yes even Equestrian clubs!  Riding is Riding.
So here's the skinny, buy any item online, on this Ride 603 website and 10% goes to your club - paid quarterly (be sure to tell us which club you're a member of in your check out cart). 
Want more HORSEPOWER than that?  Invite us (virtually for now) to your clubs next big cookout, poker run, special event or annual meeting and we will give your club back 20% on all items sold that day. Schedule a date with us and we will send you an event code! It's that simple!
It's a pretty powerful program. Just ask those who have already experienced it first hand. 
DID I MENTION..................FREE SHIPPING ON EVERYTHING!
Ride safe, Ride 603 - Join the movement!
Testimonials
Ride 603 came to my club this winter, and made a generous donation while they were there. They have quality clothing and other items available. Most importantly, their customer service is outstanding!.

Marie Monahan Hixson
Anytime NH can be represented in a positive way, it's a win win for this great state! Thank you for drumming up business for all of us small businesses! Ride603!!!

Jane's Place
Great way to raise funds for trail grooming and receive some really nice apparel.

Shawn OKeefe
The apparel is awesome and love the fact that they help the NH clubs with grooming costs!

Tania Barry
Ride603 apparel is a great way to support the outdoor activities in our state. If you want super high quality products, buy Ride603.

Jane Schofield
Ride 603 proudly sold at these incredible stores